Easy to use add-in for Outlook
Send and request data securely with ConnectId Mail
Connectid Mail is a simple add-in for Outlook (and all Microsoft emails) that makes it easy to safely share and request personal and sensitive data.
Only €5 per user per month.
Protect the people you communicate with.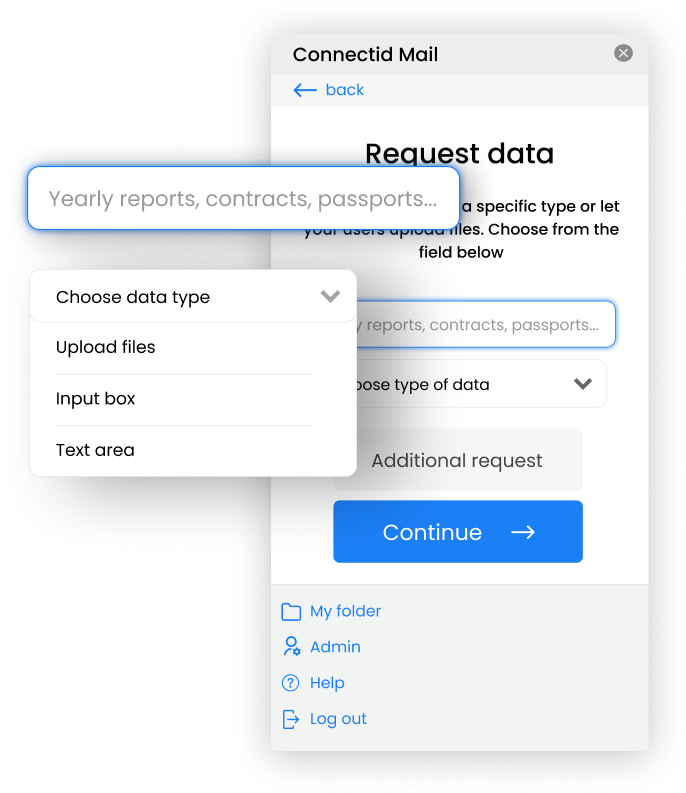 Data encrypted in both directions
All data is kept in an encrypted folder, not in emails, backups, or other insecure locations.
Only the sender and recipient can access files in the secure folder.
Use Connectid Mail to share and receive data with any other email, anywhere in the world. Your recipients don't need to have the add-in.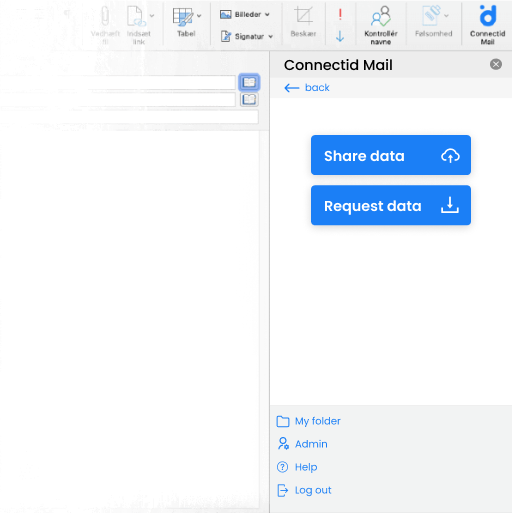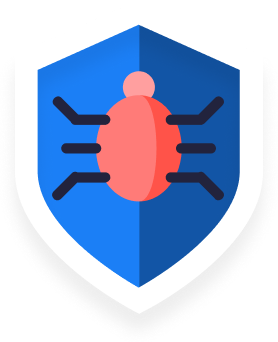 Built-in virus and malware protection
All data is scanned for virus and malware before it ends up in your secure folder.
Stay protected from identity thieves, hackers, and malicious attacks from the outside.
You choose the security level
Verify with a single-use email code, or choose two-step verification with SMS and email.
You can select whether the recipient should be able to download the file or merely read it.
Just start a new message and open the Connectid Mail window to share or request data, right in Outlook.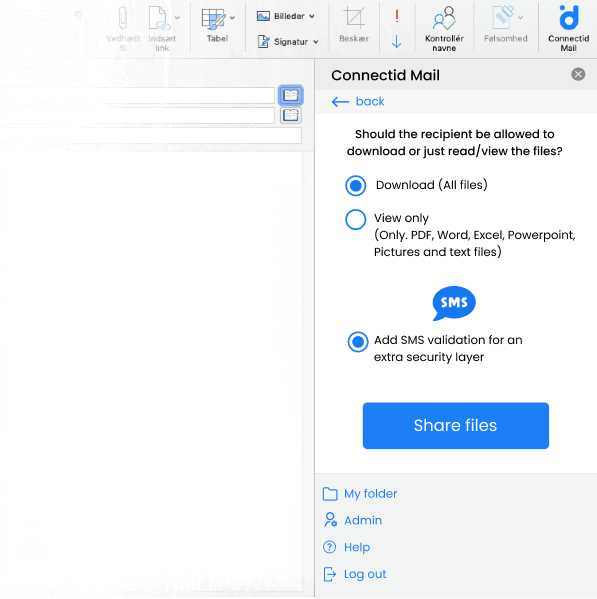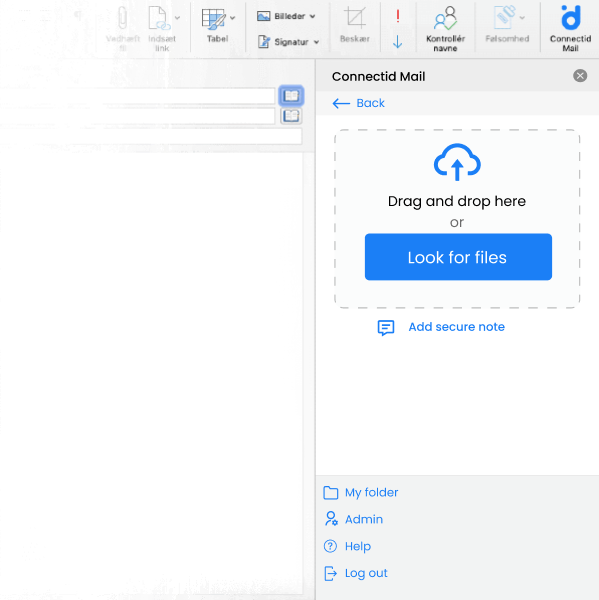 Quick and easy sharing
Drag and drop files from your desktop or folders on your computer.
Add a note for the recipient to view before he or she downloads or view the files.
Files are available for a limited time
The shared files are available to the recipient for 7 days as standard, but the time-frame can be adjusted. After which they are deleted automatically.
The files can only be downloaded by the recipient.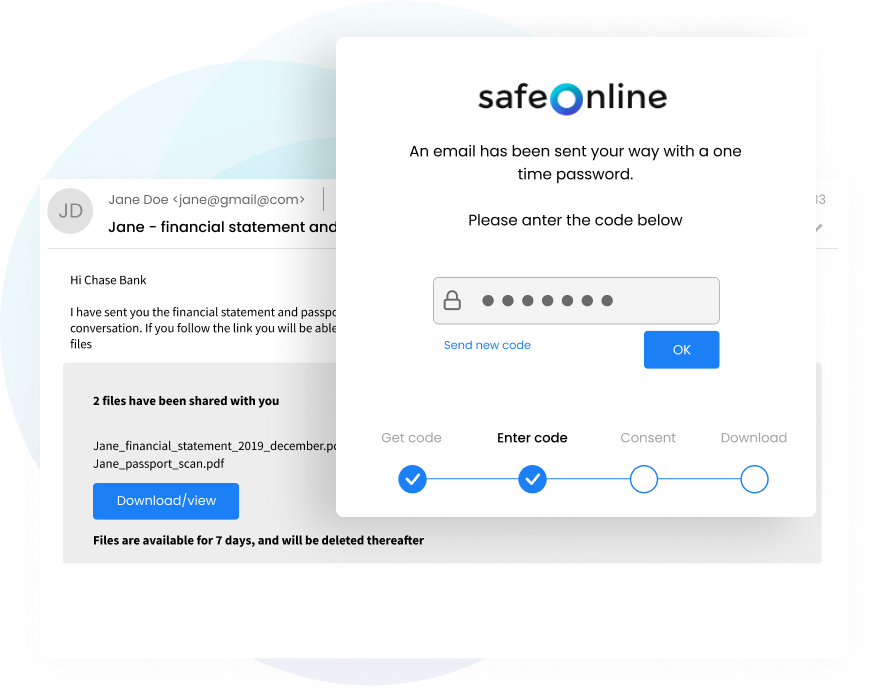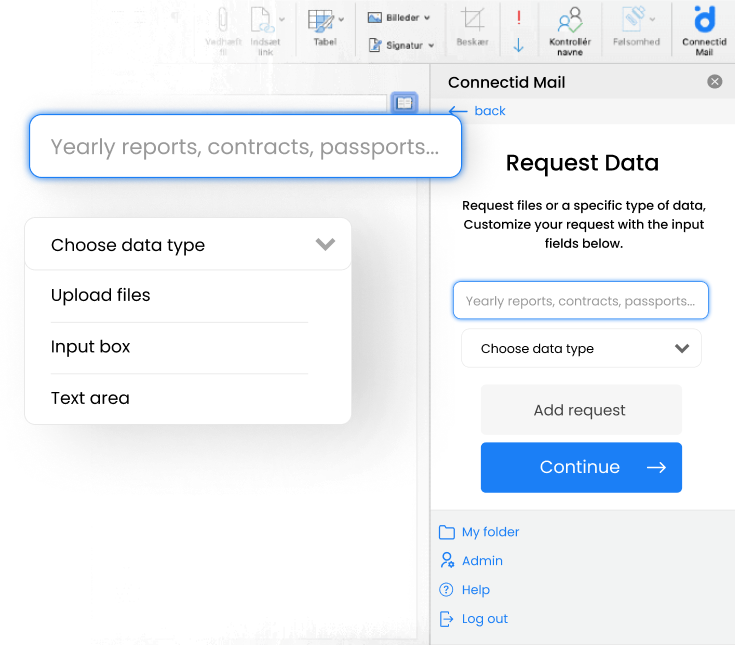 How to request data
Select the type of information you need.
Send a secure form for the recipient to upload sensitive files. (Passport photos, social security numbers, credit cards, passwords, criminal records, tax statements, shipment information, etc.)
Before a recipient sends the information back to you, they are prompted to give consent in compliance with privacy regulations.
Create a branded upload point
People need to feel safe when they upload sensitive personal data.
Customize the upload point with your company's logo.
This logoed upload point increases brand recognition and minimizes uncertainty.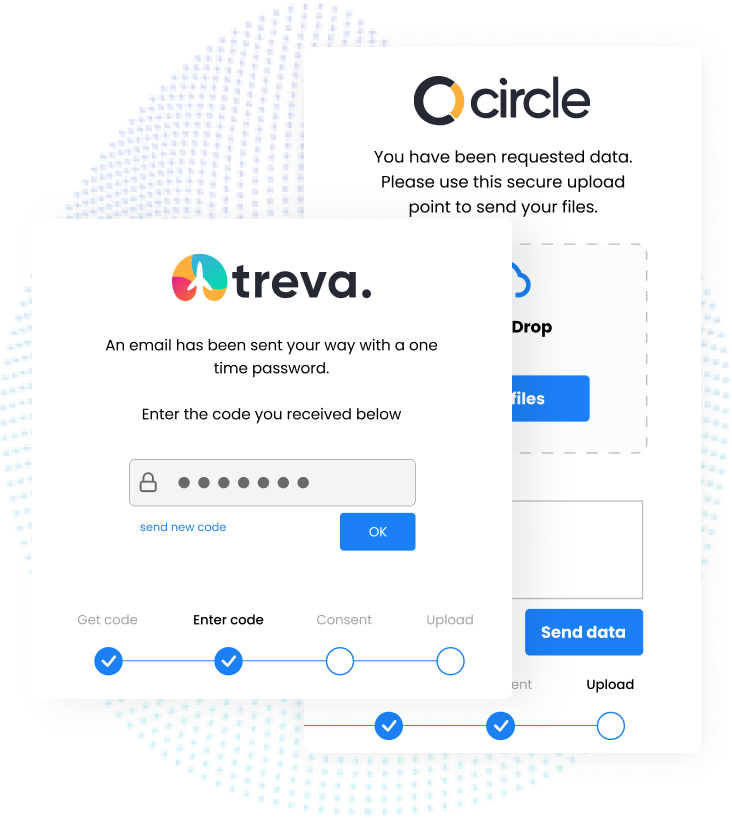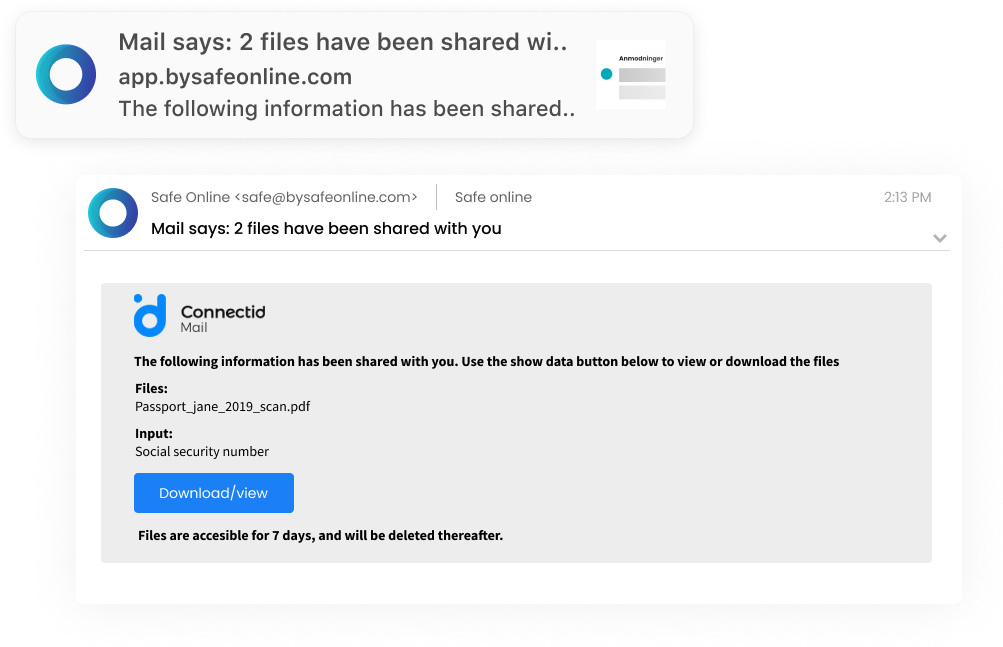 Get notified when requests are answered
You will automatically be notified when data you've requested is ready to view.
Files are kept securely in the cloud and automatically deleted, keeping person-sensitive data out of your inboxes and folders.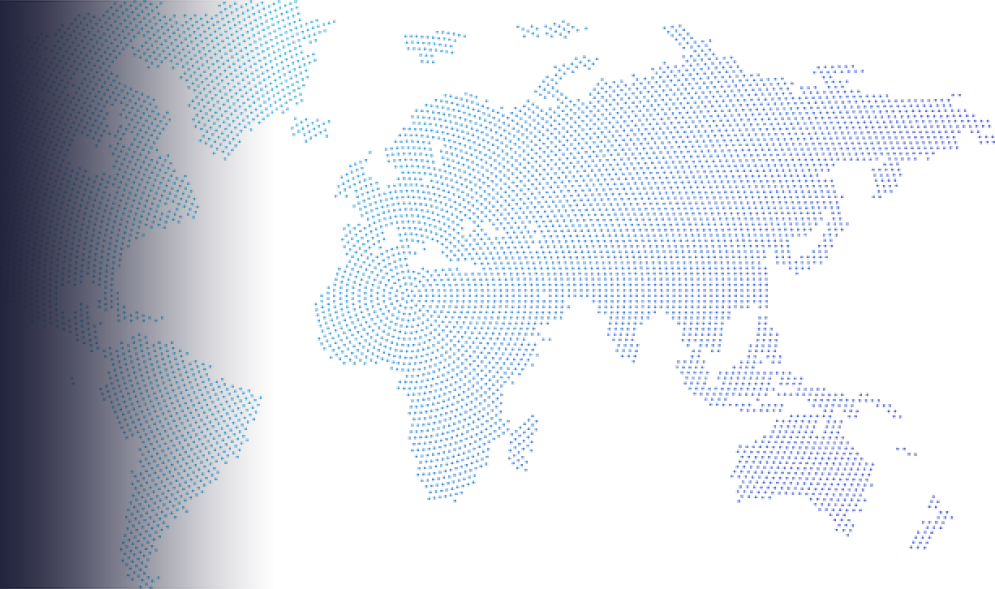 Connectid Mail is global
Connectid Mail is truly global. It crosses borders, allows any upload size, and works with any web browser without certificates.
Use it anytime, to send and receive data to/from anywhere in the world.
Free 14-day trial
Start today and get the first 14 days for free
No locking into a plan, try risk-free with no credit card required and continue for as low as €5/user per month.
Share files securely in the cloud. No person-sensitive data is sent in the email itself.
Encrypt all sensitive email communication easily
Start small, scale as needed
€

5

user per month
Two-step verification of sender and requester
Data is archived in a secure, encrypted folder – not in the email
No need for encryption certificates
Consents and actions are logged automatically
Get started for free on AppSource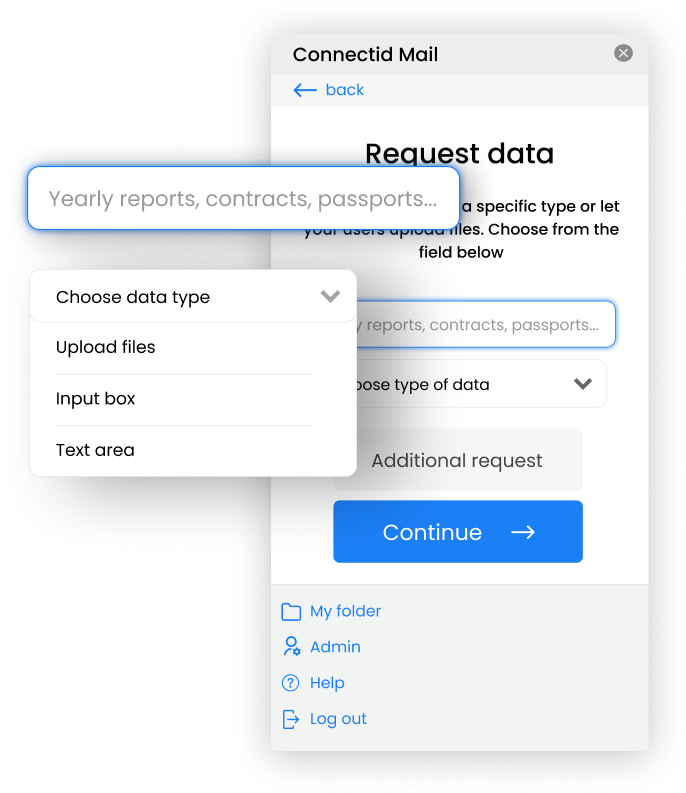 Our customers had this to say about us
See how people globally are leveraging Safe Onlines products
Vi sender årsopgørelser, lønafregninger, skatteregnskaber og andre fortrolige dokumenter – det er bl.a. vigtigt, at de bliver sendt til den rigtige person eller virksomhed.

Ninna Hansen

Ejer, Videbæk EDB Service
...Compliance er væsentligt for vores forretning og ligeså samarbejdet med strategiske partnere som Safe Online, der hjælper os med at overholde nye regler.

Rune Doberck

Service Delivery Manager, IT Operations & Security, BankInvest
Datacompagniet leverer sikkerheds- og compliance løsninger. Som forhandler af Safe Online's produkter, benytter vi produkterne hos os selv og ved vores kunder. Med fokus på GDPR og sikre it-løsninger er der et godt match!

Thomas Larsen

Teknisk Direktør, datacompagniet
"Vi interesserer os for privatliv og ønsker at tilbyde brugervenlige digitale løsninger til vores medlemmer hos Danske Advokater. Derfor anbefaler vi, at de bruger 'Connectid Mail' fra Safe Online."

Steen Hermansen

Digitaliseringschef, Danske Advokater
Get started with Connectid Mail
Follow along our guide to get you set up
How to get Connectid Mail?
Connectid Mail is available in Microsoft AppSource and via the Add-in Store in Outlook.
Connectid Mail requires an Office365 account, but once you have it you can share or request documents from users with all other mail systems – including Gmail.
From your desktop Outlook:
Open Get Add-ins on the right-hand side of your top ribbon to go to Microsoft AppSource. Search for Connectid Mail and click 'Get it now'.
From your web browser Outlook:
Open the Apps menu in the top left corner and choose Add-ins to go to Microsoft AppSource. Search Connectid Mail and click 'Get it now'.
From Microsoft AppSource:
Search Connectid Mail and click 'Get it now'.
You can invite users of your company individually via the admin center in Connectid Mail or you can choose to add multiple users at the same time via Microsoft 365 admin center.
You can find more information on how to add several users at the same time here.
Start using Connectid Mail.
Now you are ready to share or request even very sensitive personal information from others at any email address, even if they don't use Connectid Mail.
Your secure message is sent with a one-time password to access a secure folder where the recipient can either;
• fill in info or attach files and give you the needed consent to have the data, before it's all sent back to you securely (that is if you request data).
• or verify his or her identity (for email only or together with an SMS code for extra security), before downloading or viewing your shared documents (that is if you share data).
NEWSLETTER
Subscribe to our newsletter to receive the latest content and updates from Safe Online