Map all files and emails
Smart data discovery
Find sensitive data across employees, cloud storage, systems and apps.
Risk data is automatically highlighted, making it easy to monitor and protect.
Minimize your risk of data breach and fines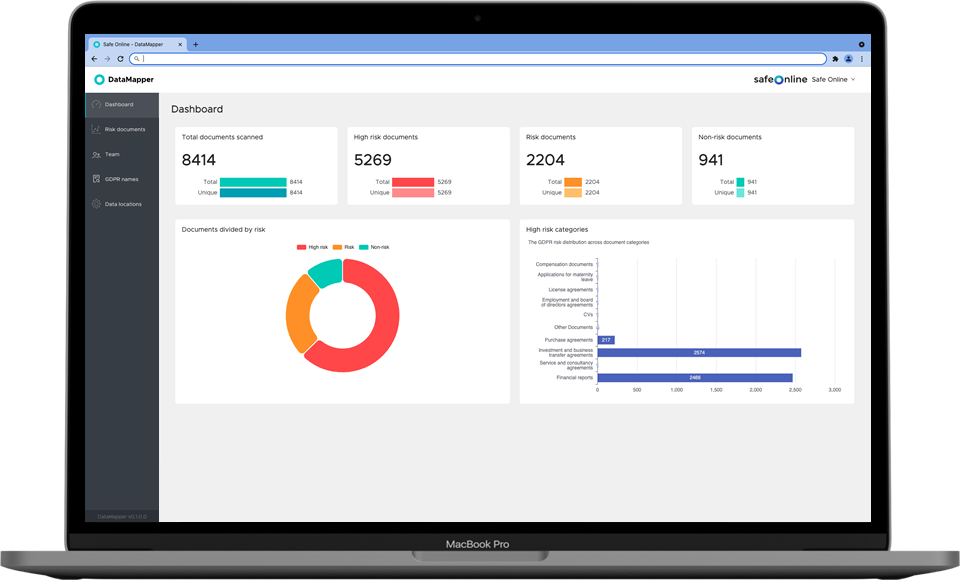 Reduce errors and improper data handling
Artificial Intelligence (AI) finds and tracks data
Advanced AI and machine learning algorithms quickly find all your data risk, whether it is saved on users' desktops, in email, or stored in the company cloud.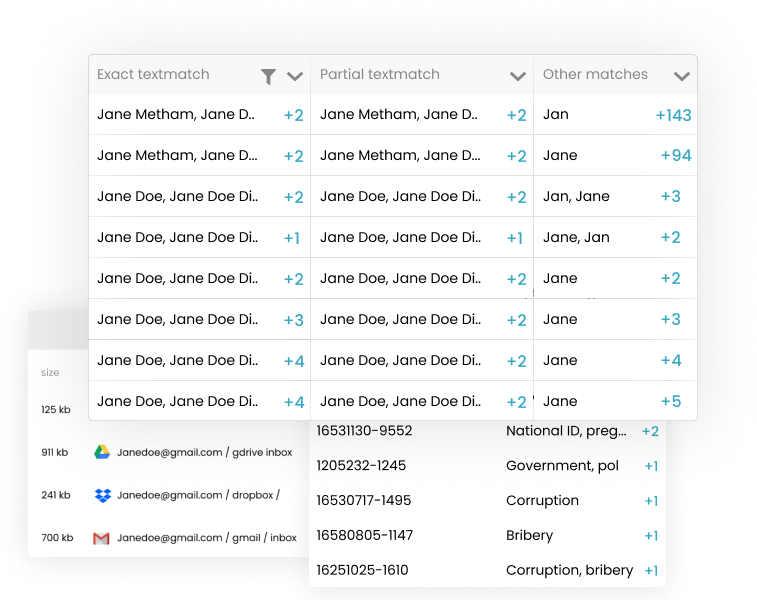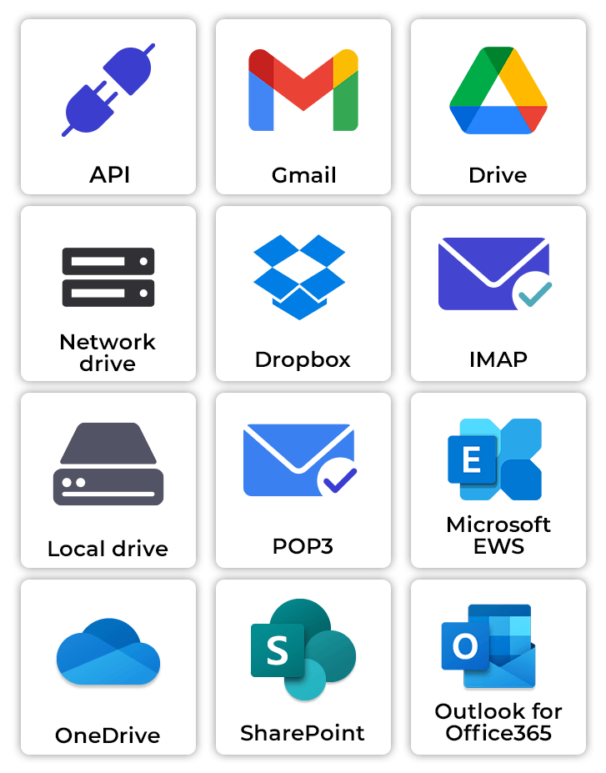 Select storage locations
You select the locations you want to map for risk data:
Local drives
Network Drives (Windows Fileshare)
Dropbox
Google Drive
Microsoft Exchange
Google Mail
IMAP
Microsoft Outlook
Microsoft SharePoint
Microsoft OneDrive
Sort files into 100+ document categories
Organize and classify all critical documents across all storage locations and multiple languages.
AI and machine learning organizes documents intuitively based on contents and context.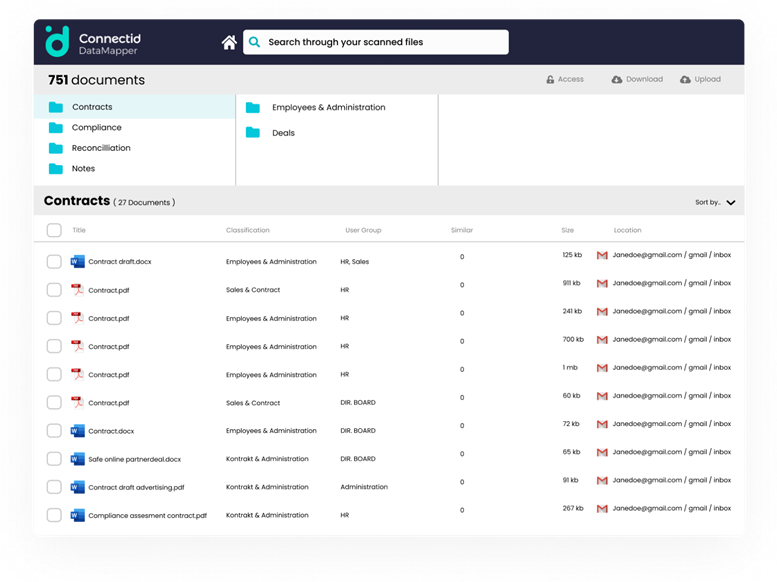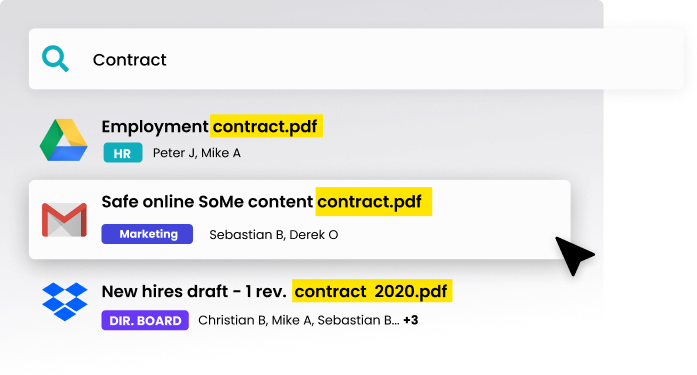 Intelligent document searches
Quick searches with filter categories such as:
File type
Content
Owner
Location
Names, and more
Onboard as many users as you want
Invite everyone to connect their storage locations. Your admin dashboard will show everyone's results.
Quickly discover lost and overlooked risk documents buried in team files and emails. Track privacy risks for the whole company.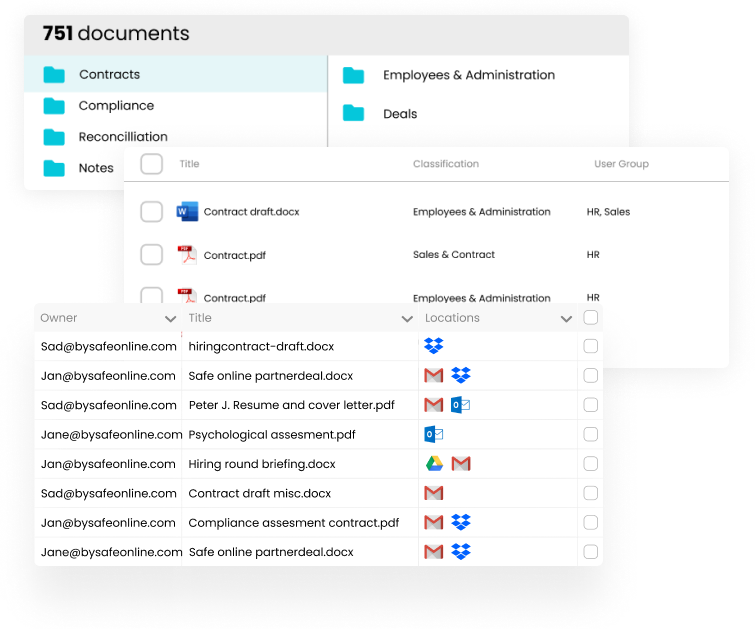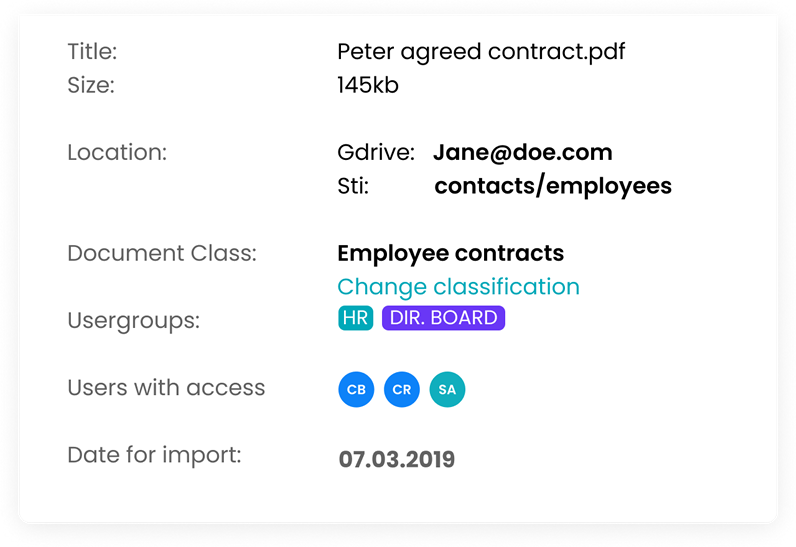 See what you have, then take action
For each document and email, you can see:
Its storage location
Who has access to it
When it was created
Then you can:
Open and review
Export and share
Delete what you don't need
Continuously monitor your risk level
Continuously monitor your company's risk level with ongoing audits and PowerBi statistics.
Create accurate data protection impact assessments (DPIAs)
Respond quickly to data access requests (DSARs)
Explain your processes when required to
Increase awareness of privacy issues throughout your organization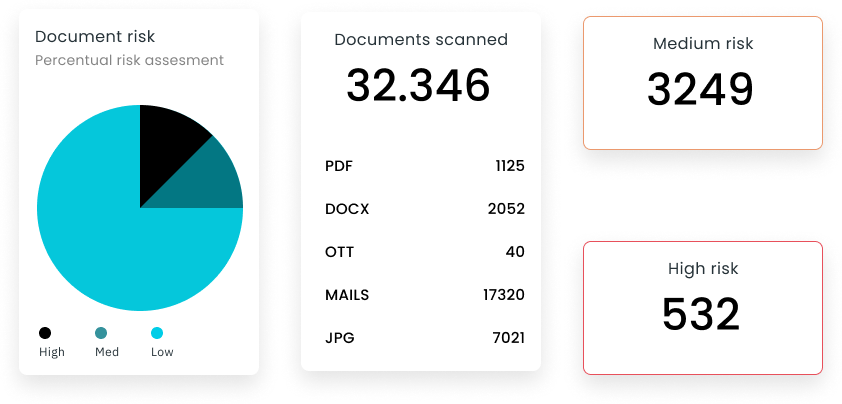 Our customers had this to say about us
See how people globally are leveraging Safe Onlines products
"We send and receive loads of documents with highly confidential information in them every day. It's critical that we confirm and document that each one is sent to the right recipient."

Ninna Hansen

Owner, Videbæk EDB Service
"Keeping up with privacy regulations is a must in our business. Our partner, Safe Online, helps us get there."

Rune Doberck

Service Delivery Manager, IT Operations & Security, BankInvest
"Delivering security and compliance solutions is what we do. We've partnered with Safe Online to offer their privacy solutions to our clients, but we also use them ourselves. Since we both focus on GDPR compliance and safe IT solutions, it's a perfect fit."

Thomas Larsen

Technical Director, Datacompagniet
"Privacy is important to us, so we want to offer our members only the best and safest digital solutions. That's why we recommend they use Connectid Mail from Safe Online for safe data sharing."

Steen Hermansen

Digitaliseringschef, Danske Advokater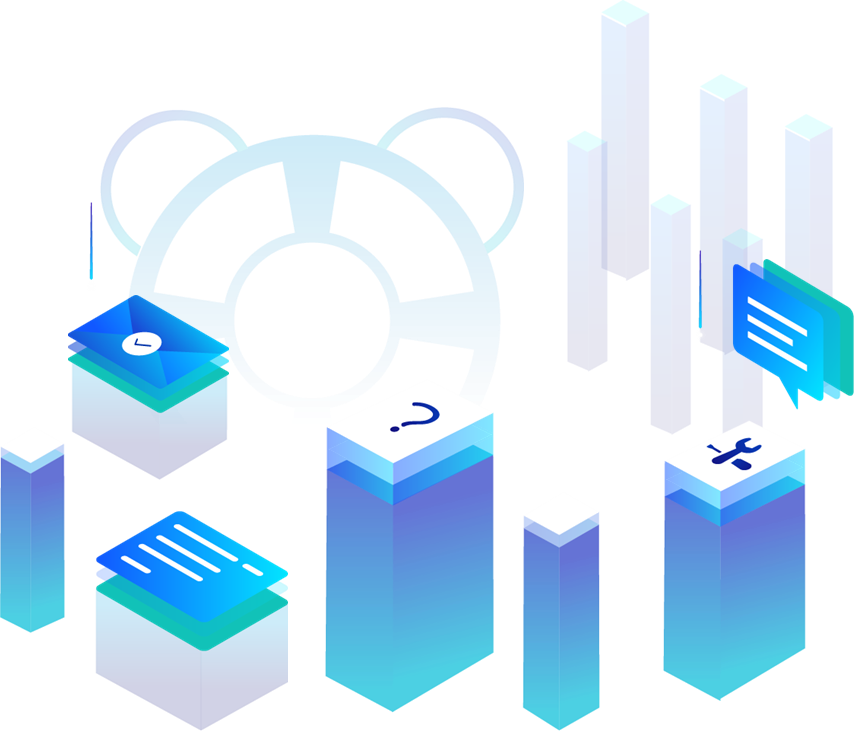 DataMapper FAQ
How can DataMapper help you comply with regulations? What should you do with high-risk documents you find? Get answers to frequently asked questions.
Read FAQ →
NEWSLETTER
Subscribe to our newsletter to receive the latest content and updates from Safe Online