Map all files and emails
Identify and manage Data Privacy risks automatically
Connectid DataMapper finds your company's person-sensitive data across employees, cloud storage, systems and apps.
Critical data is automatically highlighted after risk, making it simple to review GDPR risks.
Retrieve data. Achieve insight. Reduce GDPR risks.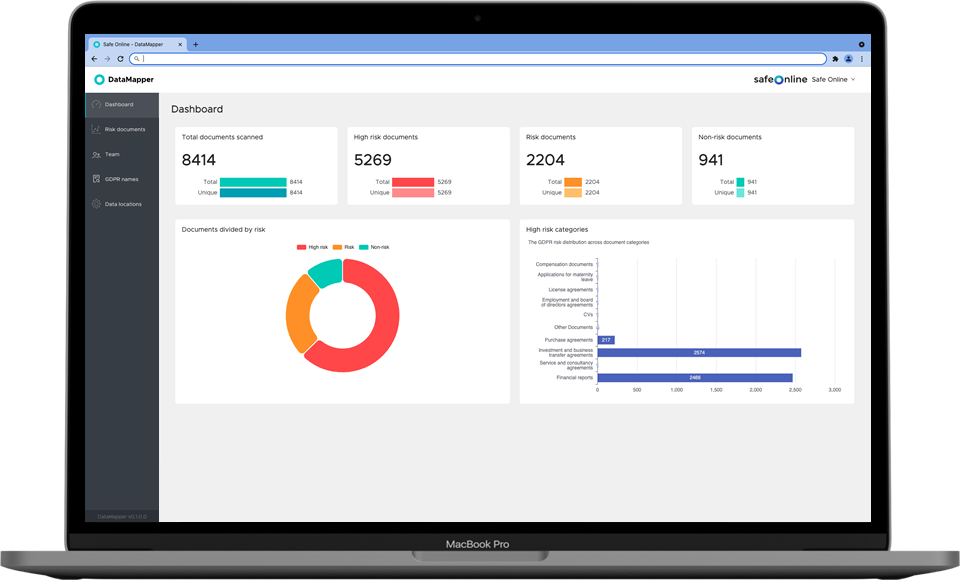 Reduce the risk of improper data handling
Complete overview of emails and documents
View everything from a single dashboard. Quickly navigate and go directly to highlighted risk documents and emails.
Advanced AI and machine learning algorithms find and track all your data, whether it's saved on users' desktops, in email, or stored in the company cloud.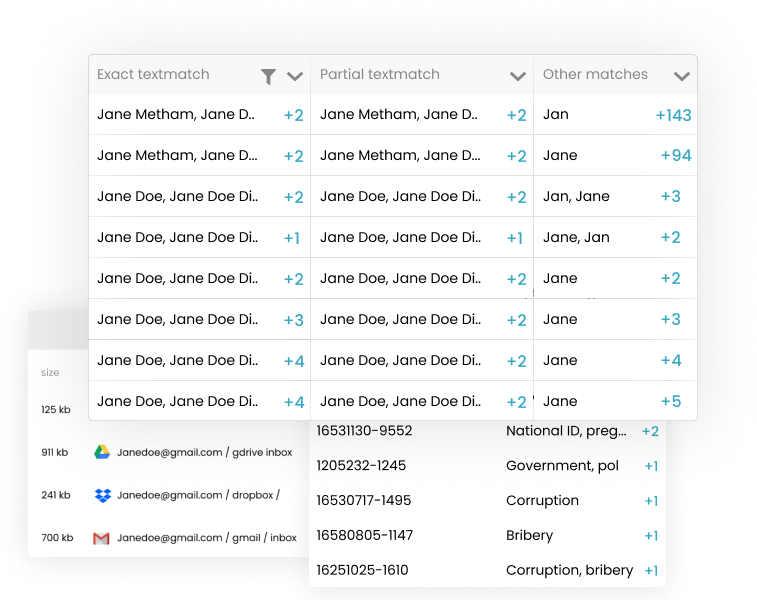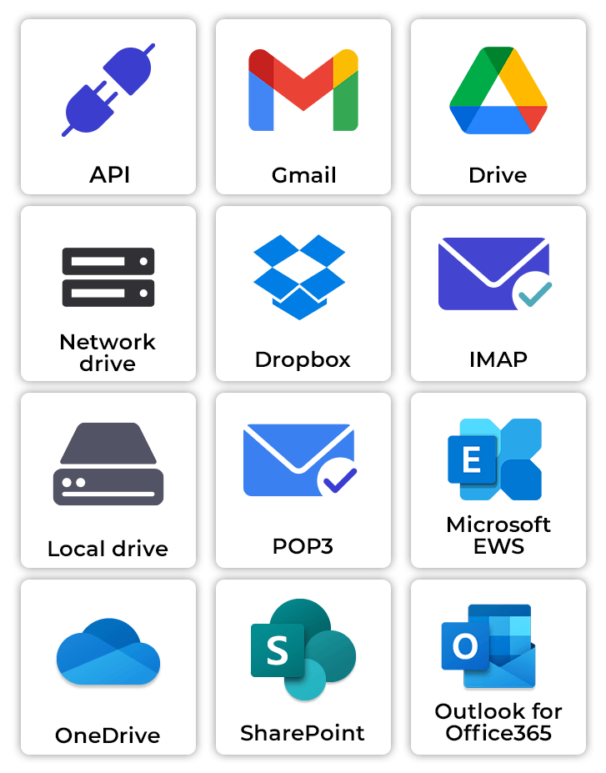 Scan select locations
Get an overview of your documents and emails across all systems.
You select the locations you want to scan: Local drives, emails, cloud storage, and more.
Categorize your documents, also across multiple languages
Find and flag all critical documents across all storage locations and multiple languages.
AI and machine learning organize documents intuitively based on contents and context.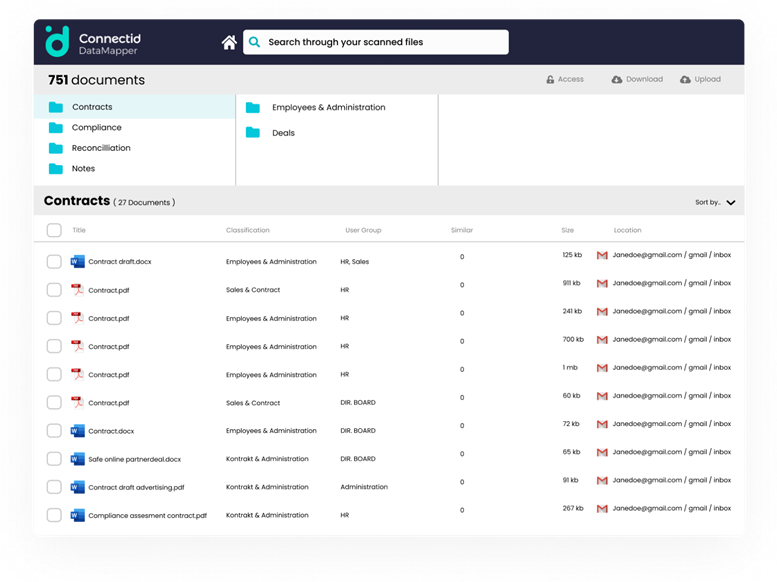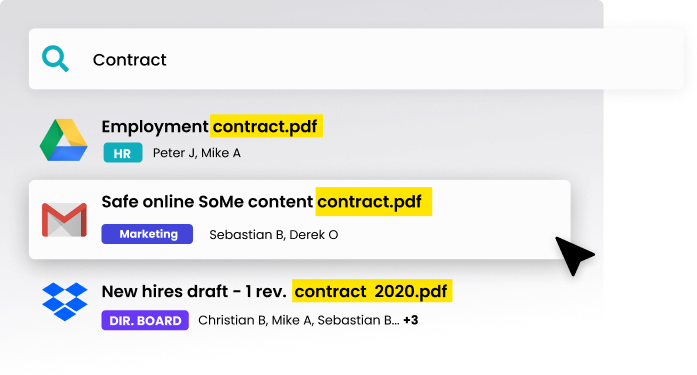 Intelligent document searches
Search relevant documents quickly and easily without the need to remember their name or location.
Filter categories such as file type, contents, owner, location, name, and more for a smarter, quicker search.
Organize documents and emails across employees
Save time and frustration. Admins quickly find their own and team members' documents and emails, including ones that were lost or overlooked.
DataMapper can automatically organize all company documents into a structured and uniform format. This provides the administrator with a complete overview of GDPR risk areas.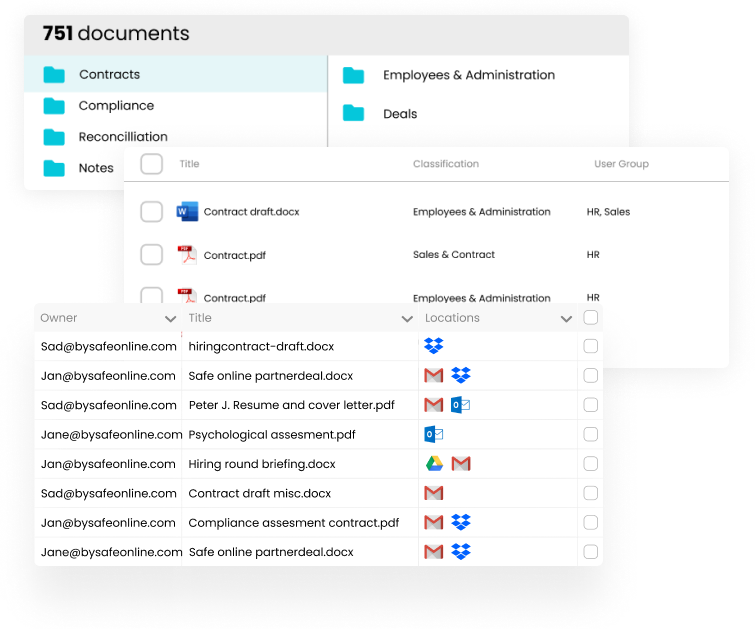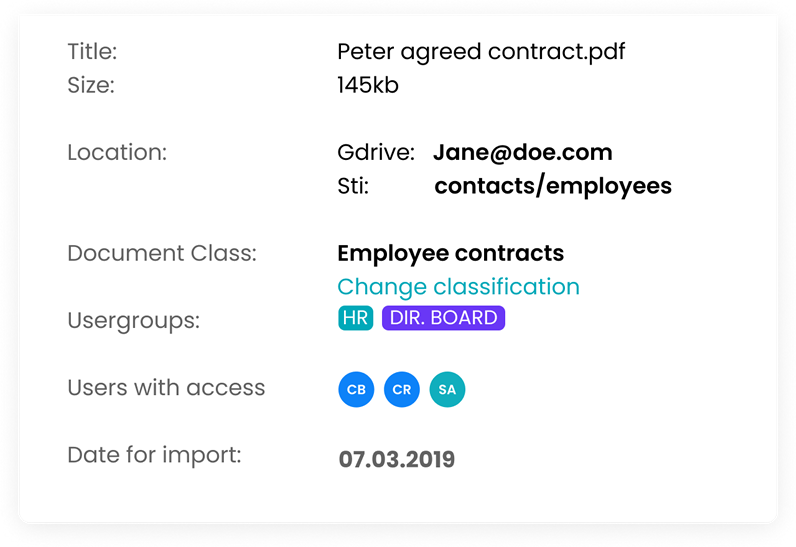 Useful information right at hand
For each document and email, you can view its original location, who has access to it, when it was created, go to it, and more.
Identify high-risk documents and emails
A practical tool that can guide you on how to properly manage person-sensitive data and make the GDPR work for you.
Ongoing audits of documents and files allow Connectid DataMapper to show you statistics on document risks, storage locations and more.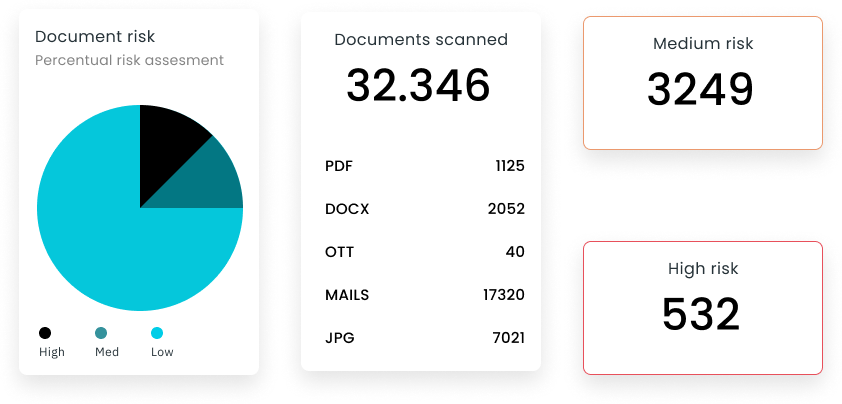 Our customers had this to say about us
See how people globally are leveraging Safe Onlines products
Vi sender årsopgørelser, lønafregninger, skatteregnskaber og andre fortrolige dokumenter – det er bl.a. vigtigt, at de bliver sendt til den rigtige person eller virksomhed.

Ninna Hansen

Ejer, Videbæk EDB Service
...Compliance er væsentligt for vores forretning og ligeså samarbejdet med strategiske partnere som Safe Online, der hjælper os med at overholde nye regler.

Rune Doberck

Service Delivery Manager, IT Operations & Security, BankInvest
Datacompagniet leverer sikkerheds- og compliance løsninger. Som forhandler af Safe Online's produkter, benytter vi produkterne hos os selv og ved vores kunder. Med fokus på GDPR og sikre it-løsninger er der et godt match!

Thomas Larsen

Teknisk Direktør, datacompagniet
"Vi interesserer os for privatliv og ønsker at tilbyde brugervenlige digitale løsninger til vores medlemmer hos Danske Advokater. Derfor anbefaler vi, at de bruger 'Connectid Mail' fra Safe Online."

Steen Hermansen

Digitaliseringschef, Danske Advokater
Get started with Connectid Business
Follow along our guide to get you set up
The first thing you need to do in order to get started with Connectid DataMapper is to book a walk-through. Here one of our consultants will tell you more about how your company can benefit and increase GDPR compliance.
Once you have completed the 20 minutes live demo, you will receive a setup link. From here you can set up your company account.
As you set up your company account, you will receive an onboarding package that includes 4-5 documents with templates and emails for internal use, so you get the best possible start using Connectid DataMapper.
Invite your colleagues, manage their permission levels, and let them scan their file locations for relevant documents. Choose the document locations you want to scan (desktop, emails, local or cloud storage, etc.) and start your scan.
Once you have run your first scan you will be able to discover any potential GDPR risks and identify all needed documents across destinations without moving them from their original location.
Making it easy for you to take action and track your company's GDPR compliance.
Take a look at our FAQ regarding Connectid Datamapper
Get answers on frequently asked questions
READ MORE
NEWSLETTER
Subscribe to our newsletter to receive the latest content and updates from Safe Online