Clean up your unstructured data with DataMapper
Switching from on-premise storage to cloud services can reduce management costs and give you the flexibility to expand or contract your storage capacities at the touch of a button. The move also makes it easier for teams to cooperate and share information, whether working in the same office or remotely. 
However, much like moving house, there is some heavy lifting involved in the migration process, and certain items must be handled with special care.  
You will have to make sure that petabytes of unstructured content (i.e., files, emails, applications, etc.) are migrated safely to the correct location, and that only the right people have access to the data when it gets there.  
What steps can you take first to make the transition easier? Before moving day, make sure you take care of the following tasks. 

Discover
First, find out what you have. Your team may be storing company information in a variety of different locations online and on their own computers. Invite the whole team to DataMapper so that all company information can be gathered and mapped, giving you a clearer understanding of the data you store.  
DataMapper gives you a complete overview of files and documents from all users on a single dashboard. This bird's eye view of company documents lets you discover sensitive data, including files you may not have known existed.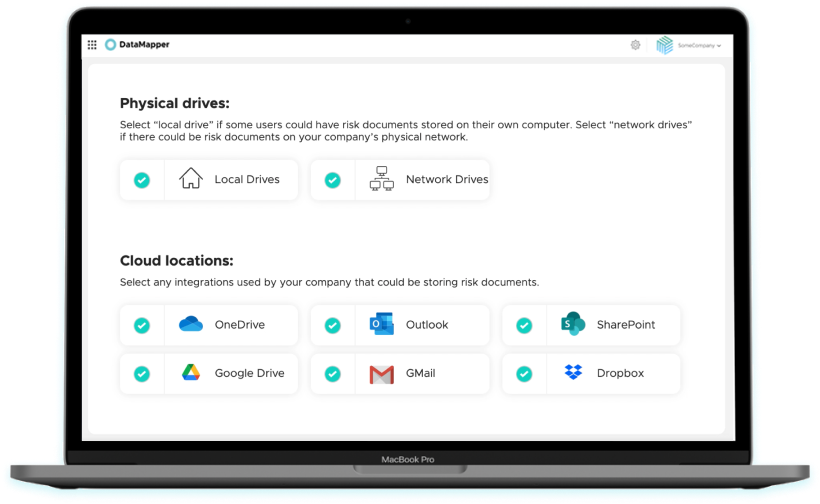 Minimize
Next, identify data that can be excluded from your migration scope, archived, or deleted. Analysts have found that at least 30 percent of the total unstructured data stored by organizations is redundant, obsolete, or trivial (ROT).  
All that unnecessary data costs money to store and protect, slows down your processing speeds, and may expose you to a greater risk of data leaks and privacy regulation violations.  If you are migrating to cloud storage, now is the time to identify and eliminate any files you don't need. 
This includes: 
Duplicate files, stored in multiple locations

Files that have not been used in a long time, that are unlikely to be needed again

Files that are not relevant and have no business or legal value.

 
DataMapper lays out all your data in front of you, making it easy to see what has value and what can be discarded. 
Classify
Now that you have eliminated superfluous data, you can turn your attention to information that will continue to be an asset for your company.  
Before you move this valuable data to its new home, you'll want to make sure it is sorted and properly labeled. But manually organizing documents scattered across mailboxes, servers, local drives, cloud storage, and USBs is an enormous task with a significant potential for human error. 
DataMapper organizes your documents intuitively based on content and context and tells you each sensitive document's risk level. Look at what you have, then decide: 
How much sensitive data will be moved?

 

What controls will be put in place to prevent data leaks?

 

Which data will take special coordination to migrate?

Which department's data should be migrated first?

 
Standardize
Standardizing formats and making content searchable improves the value of the data you store and makes it easier to access. Consider reducing the volume of unstructured data you store by converting as much of it as possible to a standard, machine-readable format. 
When you and your team members connect storage locations to DataMapper, all files found become accessible from one dashboard, where they can be downloaded as PDFs. 
Control access
Who will have access to the data after it has been migrated?  
Sensitive data requires special care. DataMapper finds your sensitive documents and shows you their locations and who stores them. Before moving the data, assign a data owner for each set of critical data. The data owner can make decisions such as who has the right to access and edit data and how it's used. 
Get DataMapper
Cloud migration presents its challenges but taking the above steps first can help. Would you like to learn more about how to use DataMapper to discover and map your team's files?