Data discovery drives progress and innovation
Data is power.
Where is yours? How do you use it?
Data is a valuable business commodity, even a currency of sorts. It gives you insights you can use to speed up your decision-making process, power growth strategies, improve customer experience, and drive innovation. However, most companies do not leverage the data they have to their best advantage; and sometimes it is simply because they do not know what they have or where it is. 
This has become even more of an issue as the huge shift toward working remotely increases. Your company's data can make its way into anyone's inbox, cloud storage or personal computer; sometimes never to be seen again. Tracking and making the most of the data you've collected requires the cooperation of your whole team and the right data discovery tools to let the whole "office" collaborate securely from anywhere in the world.  
Did you know?
52% of employees want flexible work post-pandemic.
However, loss of central control over shared files poses security risks and results in valuable data being lost or wasted.
How can companies get the benefits of a flexible workplace while still keeping track of all the data they store and putting it to best use?
The challenge
For everyone in your organization to manually organize the documents they have scattered across mailboxes, servers, local drives, cloud storage, and USBs would be an enormous task with a significant potential for human error and data leaks.
And all the time your users spend curating, understanding, and reporting data with traditional methods is lost time (and mental energy) that could be spent on progress and innovation. 
Why start with data discovery?
If you don't have a clear picture of the data you store, you can't make the most of it, and you can't protect it.  A smart data discovery system can collect data from a variety of storage systems across all departments, detecting patterns and outliers and giving you a bird's eye view of the data (including sensitive data) that you and your whole company store, whether your team works from the office or remotely. 
Data discovery tools
Data discovery tools help you create a more productive, efficient, insightful, and analytics-smart organization. The data discovery tools/software you choose should be: 
Easy to use, with no need for IT support 
Fast and frustration-free 
Cost-effective 
And must be able to: 
Handle high volumes of data 
Show you the data you store, along with statistics 
Classify files/documents by type 
Identify high-risk and sensitive data
Export and share files in a machine-readable format 
Smart data discovery tools increase the value of your data
Tools like DataMapper give you a complete overview of files and documents for all users on a single dashboard. It organizes your documents intuitively based on content and context, making it easy to navigate all documents across an organization. Whole teams can join DataMapper so that all company information can be gathered and mapped. 

The data overview and advanced analytics DataMapper offers will help you: 
Understand your flow of information 
Analyze patterns and trends within data sets 
Track your business performance 
Predict patterns and connections  
Troubleshoot across departments  
Give the right people access to all the data they need to work effectively 
Ensure the data itself is handled in the most cohesive way possible 
Understand your own processes and continue to innovate 
Improve privacy management
Build trust by communicating your processes more effectively to others
Free up more time for problem-solving and strategic decision-making 
When you revisit data that was buried in an old file or floating aimlessly in cloud storage, you will quickly discover any incomplete contracts, overlooked sales leads, unused subscriptions, superfluous systems and suppliers, and other information that would otherwise slip through the cracks.  
Much of what you find will continue to be an asset for your company, but you will also identify data that is redundant, obsolete, or trivial (ROT). Eliminating ROT from your systems will also make the rest of your valuable data more accessible.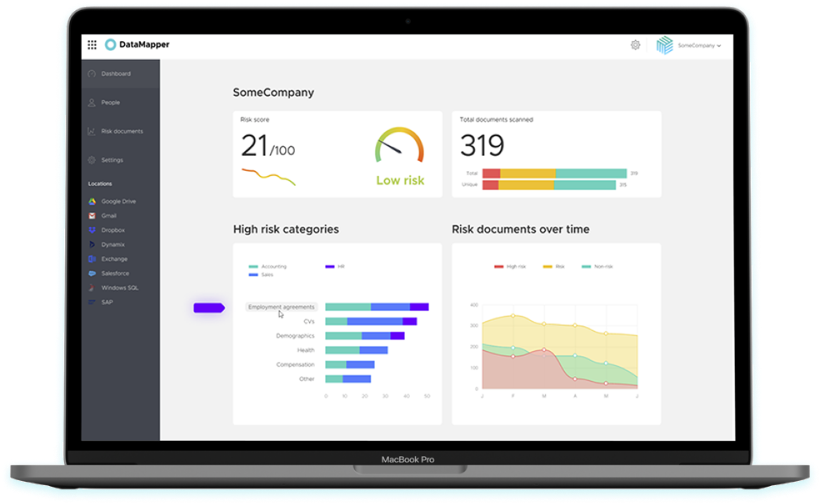 Would you like to learn more about how to use DataMapper to discover and map your team's files? Learn more →